MAOMI BOARD BOOKS
Maomi Books feature 7 coloured kitties, each with their own talents and personalities.  The books are written in Traditional Chinese as a Mandarin rhyme.   The storyline is delivered in with a strong repeating cadence, making the book catchy and fun for children age 0+.  The text is supported by inline Pin Yin to help non-native parents and children with mandarin pronunciations.  In addition, an english translation of the storyline is provided in the back of the book.  

Shipping Fees & Delivery Time
International: Shipping is flat rate US$15 per order. Please allow 2-3 weeks for delivery.
Local (Hong Kong): Free shipping, 3-4 working days for delivery.
Special features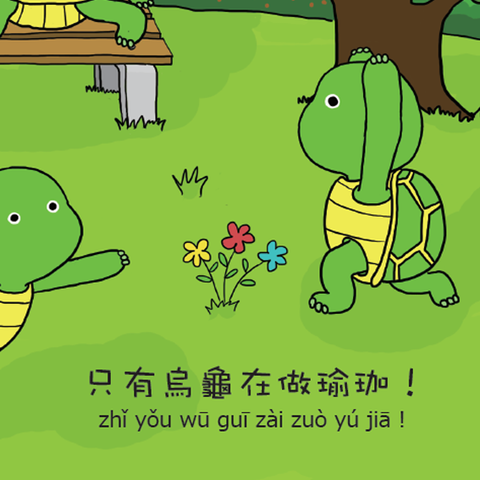 Inline Mandarin Pinyin pronounciations
The pronunciations written according to the "pin yin" system is a perfect reminder for those times when we just can't remember how to pronounce a character!  English translations are also available at the back of the book.  
Learn about "Pin Yin"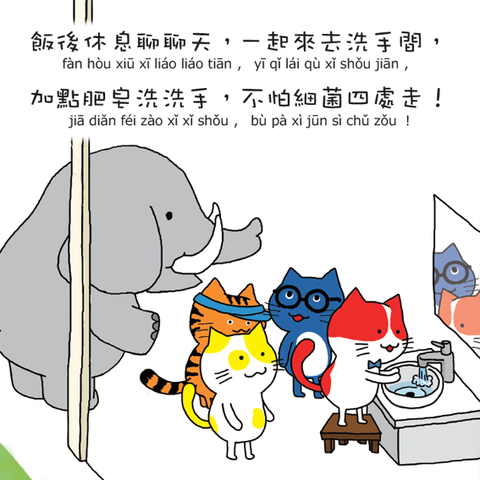 Foster Useful Habits and Values
In addition to Chinese learning, Maomi books also take suitable opportunities to instill useful life skills such as concepts around health, hygiene, exercise, comaraderie, hospitality, perseverence and being happy. 
Our philosophy
Our aim is to provide multilingual or non-native Chinese families with fun and engaging chinese books for children ages 0-7.  Many new parents aspire for their little ones to know Chinese language and culture, but may find themselves in situations where this is challenging.  For example, if one lives in a non-Chinese speaking environment or if the parents' own chinese skills are relatively limited.  With Maomi books, we hope to make this easier by providing materials that parents with different levels of chinese skills can use and that the children will love.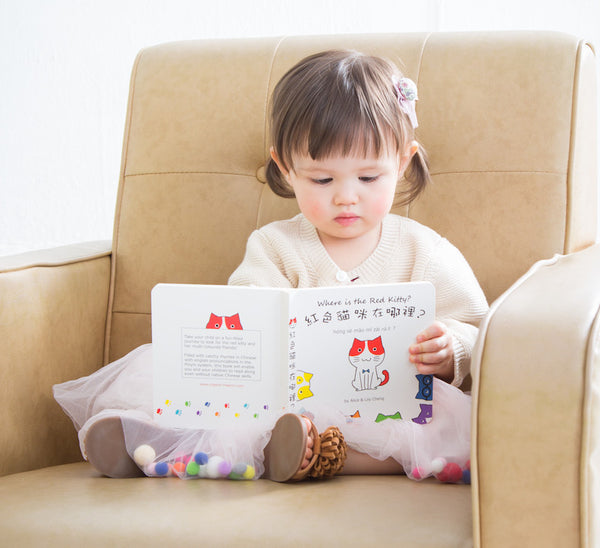 Age 0 - 7 critical for neural development: There are significant benefits exposing kids to languages prior to age 7 when brains are at their highest levels of neuroplasticity.  At this critical stage, unused synapses are being pruned away while used synapses are being reinforced as the brain seeks to become more efficient.  
Encourage early childhood exposure to Chinese: Given this research, our aim is to make it easier for multilingual families to provide early childhood exposure to Chinese in a fun and engaging way.  We hope that through exposure at this critical age, the neural pathways can develop in ways that are more favorable for continued learning moving forwards.  
More about us
Testimonials
This has been my 2 year old's favourite bedtime story for months now - very unusual for a kid with a short attention span!  She loves the funny actions, the illustrations, the rhythm and overall catchiness of the story.  Looking forward to reading about the other kitties!

Chuen
I gave this book to my friend's 3 year old daughter when they came over to visit my newborn twins.  The finger puppet caught the little girl's attention right away and she simply loves reading the story with her new friend even until now!!!  She wouldn't have it any other way!

Janice
My son and all his friends love this book.  The very first time we read it together he caught onto the rhythm.  Even though he's unable to read characters yet, he will try and recall the passages and sing them like lines from a song.  Looking forward to the other color kitties."

Jen
Our son, Leon, was born in Hong Kong and received a red kitty book for present.  He started to play with it and to look at the drawings when he was 1 year old.  Since he loves turning the pages and enjoys the colorful cartoons.  

Marc
Rap-Along with us to some Hip Hop Tunes!